I have won a few giveaways lately, and I can't tell you how excited that made me! I feel like I enter them all the time, and within the last month, I actually won 3! So exciting. I just wanted to give a special thank you to the women who hosted these giveaways: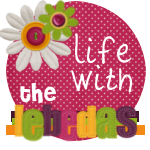 I received my prize last week, and have used it several times. Thanks again!!
I also received my prize in the mail last week, but have been waiting to use it until I finish my current product. But its sitting on my nightstand and I can't wait to try it!
Still haven't received this one yet, but I can't wait for it to come.
Thanks again for hosting these wonderful giveaways!